April 7, 2017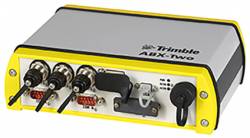 Trimble introduces the Trimble ABX-Two OEM GNSS sensor, designed to deliver precise heading, pitch, roll and 3D positioning information.
With two internal MB-Two modules, the ABX-Two offers a third antenna option that provides a drift-free, absolute attitude solution. The ABX-Two is well-suited for a wide variety of applications such as agriculture, automotive, aviation, construction and marine systems.
The announcement was made April 6 at Ocean Business 2017, an international event for ocean technology.
By Inside GNSS