August 15, 2008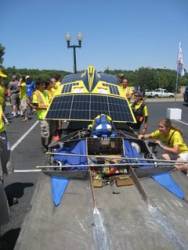 A sleek-looking solar car built by a University of Michigan team was first across the finish line early in the afternoon of July 22 after a long, hot 10-day 2,400-mile (4,000 km) race from Plano, Texas to Calgary, Alberta. And once again GPS and satellite-based differential corrections play a key role.
This year, 15 solar-powered cars built by students from universities in the U.S., Canada, and Germany completed the 2008 North American Solar challenge.
Michigan has won five out of nine NASC races, held every other year since 1990.
By Inside GNSS