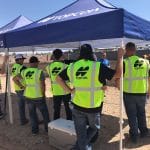 May 3, 2018
On the Road
Welcome to the first Topcon Technology Roadshow newsletter, highlighting the local happenings from tour stops all along Topcon's 25+ multi-city adventure.
The 2018 Topcon Technology Roadshow features a 53-foot expandable traveling truck, which includes a theater and showcase room, packed with the latest technologies—all with a focus on the Intersection of Infrastructure and Technology theme.
We all know that in today's environment, it takes more than business as usual to win and build today's smart infrastructure. Those companies that are investing in technology and connected workflows are winning more bids, meeting and beating federal/state requirements and generating higher returns. That's why every roadshow stop includes a demonstration of the latest construction, survey, civil engineering, architecture and design technologies designed to improve workflows and maximize productivity. These solutions include 3D machine control systems, UAVs, and Topcon's Elite Survey suite.
By Inside GNSS