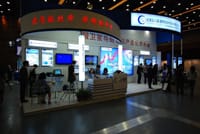 May 14, 2011
The second China Satellite Navigation conference will take place at Shanghai's Expo Center on May 18-20, 2011.
The conference scientific chair is Prof. Sun Jiadong.
The aim of the conference is to build satellite navigation as an active academic field in China, to promote satellite system technology innovation and to strengthen the relationship between business and government for the advance of China's Compass/Beidou system.
By Inside GNSS